The best traditional medicine for the improvement of blood count is celery. But, this plant – also used as a spice – takes two years to ripe. And this is what it took a group of talented young experts Niš to conquer the market of numerous companies on four continents. The young IT company from Niš, Badin soft, has about ten major clients on the domestic market, and the markets of the US, Europe, Asia and Australia.
Dušan and Božidar, two young IT experts initiated everything, and they invested dedication, effort, clear vision and serious approach. Their team has grown in time, and today the company (officially founded at the end of 2016) has more than 60 employees and associates.  At the recent Forum of Advanced Technologies, one of the founders, Dušan Cvetković, was awarded the best young entrepreneur in advanced technologies, for applying the global trends in programming.
Badin soft develops software for companies in different industries, from banking and fintech industry, design, consulting, infrastructure, to automotive industry and others. Their special field of expertise are the so-called loyalty programs. The company operates in accordance with the B2B principle.
Apart from hard work, they emphasize that one of the most important preconditions for success is that people should always come first, as reflected by their motto "It's all about people". Satisfaction of staff, as well as associates and partners is necessary to achieve progress.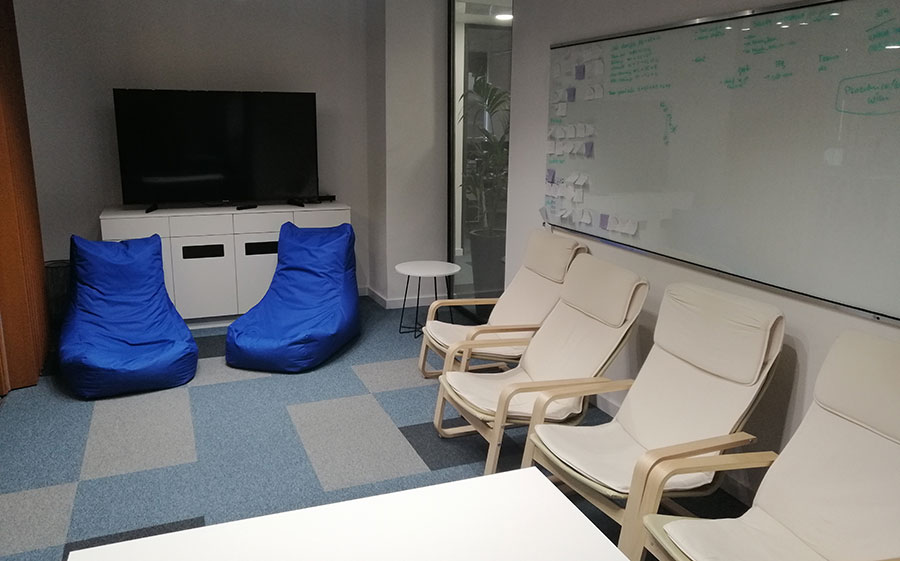 "We always focus on people, and it is one of our core values. We want to put the human being into the centre of everything, we want to be a family and not a company that cares only about business" says Ina Hrvat, Company's HR Manager. They are not afraid to give a chance to young people just starting their career. Their team includes many students and interns who are, during their work engagement in the Company, fully supported to complete their studies, as the Company believes that it is important to work on personal and professional development of each individual.
"We are trying to create a balance, so that people have enough time for all their duties. The Company is full of understanding for all activities of the team members and the challenges they face" says Aleksandra Vidojković, Company's Portfolio Manager. Badin soft is also dedicated to constant professional development of all team members, and they try to take active participation in the local community, support socially responsible initiatives, and assist the community through charity work.
The EU support
The European Union, through the EU PRO Development Programme, has allocated EUR 2.1 million to support enterprises in South Eastern and South Western Serbia. 106 enterprises in total will be granted support for the provision of new equipment and competitiveness promotion, in order to contribute to the local economy development. One of the companies whose project proposals were approved on this competition is Badin soft.
"The approved project represents a great recognition. It means a lot to us to be recognized and appreciated by an organization like this. This project will help us position ourselves on the market better, promote our business and progress further, " says Aleksandra Vidojković.
During a recent visit to the South Serbia  the Head of the EU Delegation to Serbia Ambassador Sem Fabrizi, officially awarded the first 38 EU PRO's certificates of support to enterprises operating in Zaječar, Jablanica, Nišava, Pirot, Pčinja and Toplica Districts. Ambassador Fabrizi said that the European Union extends support to micro and small enterprises, which account for 90% of all enterprises and are the pillar of both the Serbian and EU economies. The EU would continue supporting successful entrepreneurial ideas and encourage development of the local economic infrastructure through its political, financial and social instruments.
To a great extent, the EU support assists enterprises develop their strategic objectives and promote business. The opportunities for new jobs and overall community development are created through the enabling environment. "At present, we are an outsourcing company, and our strategic plan is to develop our own product. The award we were granted will give us a significant "push" in that direction and help us achieve our goals" concluded Aleksandra Vidojković.
The European Union allocated the total amount of EUR 25 million for the three-year programme EU PRO that started in January 2018.