#EUzaTEBE is the name of the European Delegation to Serbia and EU Info Network's (EU Info Centre in Belgrade and EU Info Points in Novi Sad and Nis) umbrella campaign, promoting the results of EU's development assistance to Serbia as part of the European integration process.
The campaign will focus on the results produced so far as well as on the potential of future cooperation and common work on projects in a number of areas: culture, energy, agriculture, environmental protection, education, support for civil society, transport, etc.
With over 3 billion euros in non-refundable aid in Serbia through various projects since 2001, the European Union is the biggest donor in the country. Serbia and the European Union share common values.
The #EUzaTEBE campaign is run in traditional media and on social networks in cooperation with the government, cultural institutions, civil society organisations and many others.
Learn more about the #EUzaTEBE campaign on our websites: www.europa.rs and www.euinfo.rs, and on our social media accounts - Facebook, Instagram and Twitter. We invite you to join the discussion by using hashtag #EUzaTEBE.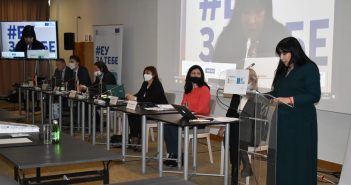 The first conference on preparing the Draft of the Air Protection Programme in the Republic of Serbia with accompanying Action…