IPARD – EU Support to Rural Development

The EU assists Serbia in its endeavour to align with EU polices. Agriculture has received more than EUR 150 mil. to date. Of this, close to 100 million under IPA alone i.e. since 2007.
For the period 2014-2020 IPARD (Pre-accession assistance program in the area of agriculture and rural development) is the flagship programme with an EU commitment of € 175 mil. complemented by another EUR 55 mil.  of national co-financing. The recipients of this overall EUR 230 mil. are directly the farmers. Serbia decided to implement the following 6 measures under the IPARD programme:
Investments in physical assets of agricultural holdings
Investments in physical assets concerning processing and marketing of agricultural and fishery products
Agri-environment-climate and organic farming measure
Implementation of local development strategies – leader approach
Farm diversification and business development
Technical assistance
These modernization measures of Serbia's agriculture, where support is ranging from 50% to 80% of the value of the investment, are expected to mobilize up to EUR 400 mil. in total investments in the sector during the period in consideration.
IPARD program is implemented under indirect management, it means the Serbian authorities had to set up a complex implementation structure ensuring full transparency of the allocated financial resources and have the full responsibility for their allocation.. This implementation system is regularly assessed by the European Commission. In the first round, the Serbian authorities achieved the accreditation of two measures (Measure 1 – investments in physical assets of agricultural holding and Measure 3 - investment in physical assets and investment in marketing and processing of agricultural products) in early 2018. First calls for farmers were published subsequently.
In the second round Serbia applied for the accreditation of M7 - Farm diversification and business development and M9 - Technical assistance in November 2019 with a positive answer from the European Commission received in March 2020. First call for submission of application under M7 was launched on 8 June 2020.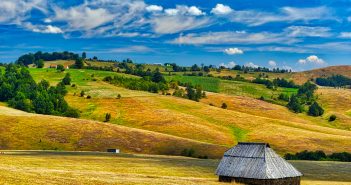 Twenty million euros or 2.3 million dinars—these are the funds allocated by the European Union for the development of rural…