After decades of exile, numerous cities and addresses, from collective centres to private accommodation, 35 refugee and internally displaced families have obtained permanent accommodation at social housing buildings located in Streliste neighbourhood in Pancevo.
The remaining 20 families were given keys to their new apartments in November 2015 thus marking closure of the project aimed at providing social housing in supportive environment titled "European Union support for migrants and closure of collective centres in the Republic of Serbia" which was launched on 1 January 2014.
The construction of both buildings located in Streliste neighbourhood has been entrusted to the Danish Refugee Council Serbia. The city of Pancevo, acting as project partner, had provided building land, infrastructure equipping as well as urban planning and technical documentation. Apart from the money from the EU, co-funding for the project was secured by the Danish Refugee Council, Fondacija Ana i Vlade Divac, the Assistance Fund for refugees, exiles and displaced persons of Vojvodina, as well as the city of Pancevo itself.
Most of the tenants came here from the 23-year-old refugee collective centre in Pancevo which is to be closed.
"We are looking ahead and never going back"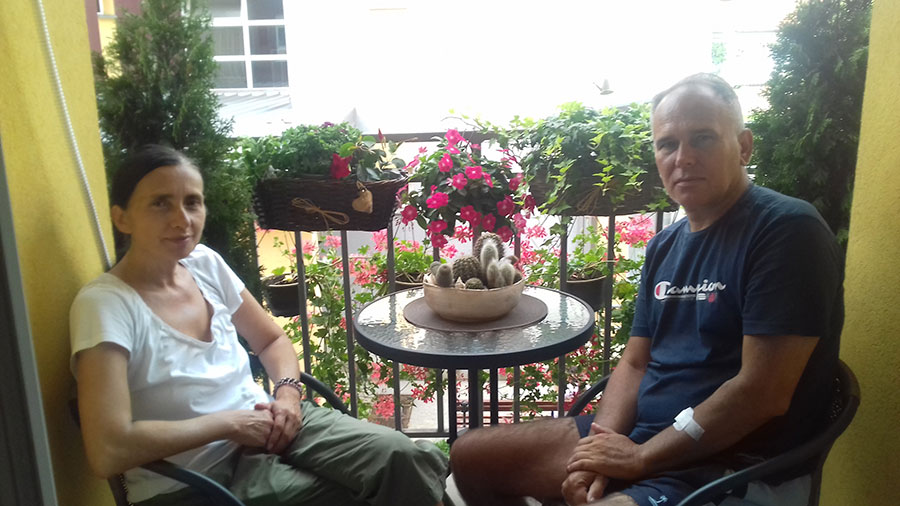 Gordana Arbutina is a housekeeper at a newly constructed three-story building. Her job is to help these families adjust to independent living. She assists them in acquiring necessary documents, making contact with social services, registrar's office, police and takes care of building maintenance.
She is a refugee herself. In 1995, she fled Glina during Croatian military operation Oluja together with her husband Dragan and son Stefan, now a college student. First they lived in Kraljevo and when Dragan got a job in a coffee shop in Pancevo, they moved to this city in Vojvodina. They applied for a Swiss housing programme and got a 32-square-metre studio apartment which used to be their home for 10 years. After applying for the Danish Refugee Council programme, they received the apartment they live in now.
"The Swiss were the first to launch refugee housing programmes. 11 years ago, when the first building were constructed, they were crammed with numerous apartments housing a great number of beneficiaries. 20-square-metre apartments used to house entire families. The apartments we have today are much more comfortable."
Gordana and her family now live in a 54-square-metre apartment filled with flowers. While taking a family photo on the balcony they talk about their flowers. Gordana describes her life in a building where people are brought together by a similar refugee fate.
"Most of these people are displaced from Kosovo, some of them from Croatia. They have been brought together by the same problem and they get along well. They are thrilled to have got roof over their heads." Still, Gordana says, it took time for tenants to adjust to new conditions. "For the first couple of months they were confused. I would find them sitting in front of the building saying they were not accustomed to living there. Some of them used to go back to the collective centre, every day, because they couldn't get used to living alone. It took some time to adapt to the new, nice environment."
But now, Gordana continues, both buildings are filled with children and joy. "They are full of joy, children, both pre-school and school children. The school is very close to the neighbourhood and they hang out in the yard as well. Community health centre and fresh market are within walking distance of 300, 400 metres."
We ask them if they miss anything. Smiling, Gordana responds: "Street lamps, and we are finally getting them. The building is tucked away from the street so there was not much light; in a couple of days this will change."
We expected a different answer from people who had lost so much, but Gordana does not look back: "We are looking ahead and never going back."
"We have our peace now"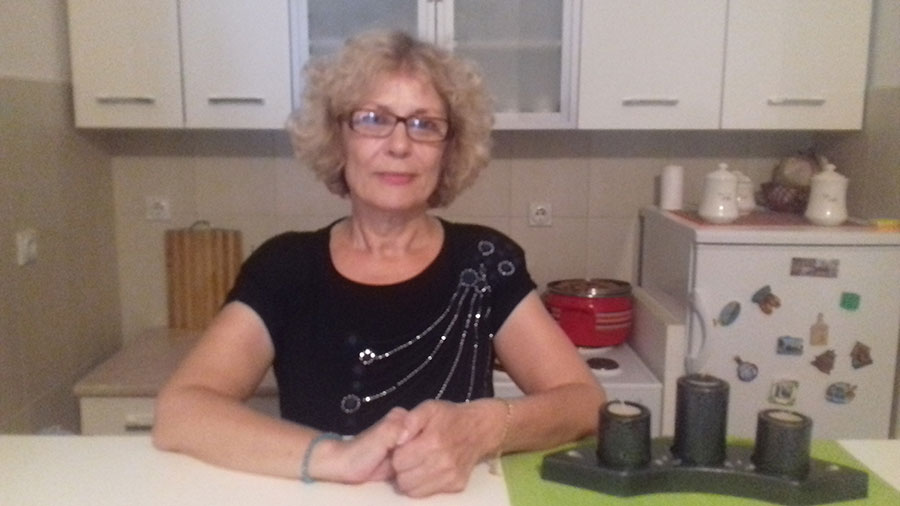 After 16 years of living in various collective centres, Ruzica Cesarevic finally got her own space where she, together with her son Dragoljub, can feel the same as any other resident of Pancevo. Dragoljub was 11 when he, his mother and his two sisters with their children fled Kosovo* on 12 June 1999. He is in university now. First they lived in Kragujevac and then in Petrovac na Mlavi before moving to collective centre in Pancevo where they spent eight years.
"Three different families lived in one room, divided with screens," Ruzica recalls her life in the collective centre. "The entire flat was home to 24 people sharing a single bathroom. We did not have a kitchen."
Now, she and her son live in a 1.5 34-square-metre apartment. She falls within the category of tenants whose bills and living expenses are covered by the municipality. They live off her RSD14,000 pension.
She recalls her first days in the new apartments: "At first I couldn't believe it was happening. Through a force of habit, I would take the soap back to my room after washing my hands," says Ruzica with a smile. "Now I live a normal life, like I used to do."
She gives us a tour around her nice kitchen, separated from the living room with a bar. Thanks to EU funding, the Danish Refugee Council equipped her apartment with kitchen cabinets, a kitchen sink, cooker, fridge, as well as washing machine, couch, and a dining table with chairs.
"We have our peace now, our own nook where we can be alone. [In the collective centre] people were all over the place, all kinds of people… There are no such problems here, the building is quiet, a 90 per cent of people are my old acquaintances with whom I hang out," says Ruzica Ceranic.
"For the first time I don't feel a knot in my stomach"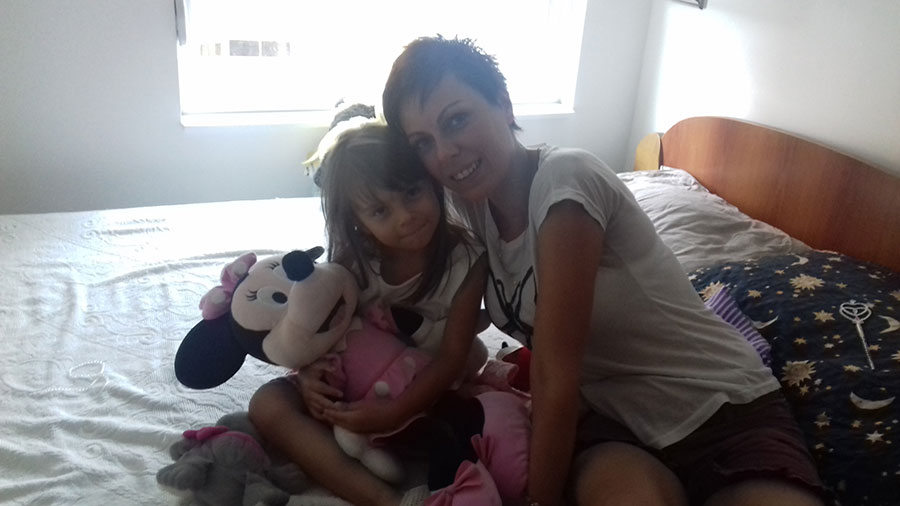 Ilijana Radulovic was 14 when she fled Knin during Oluja military operation. A collective centre on the Kukavica mountain near Leskovac was the first home to her parents and her two brothers in Serbia. They moved to Pancevo in 1997. Ilijana has gratuated from management college, got married and divorced, and is currently living with her four-year-old daughter Vasilija. She works at the Centre for Social Welfare in Pancevo. Once she heard about the programme she immediately applied given that she met all the requirements.
"My current job requires a secondary school degree and pays RSD27,000. I cover all the bills and for the first time I don't have to worry about the rent. For the first time I don't feel a knot in my stomach worrying about the rent. I find it reassuring," says Ilijana adding that it means a lot to live in a good neighbourhood.
"It is a great neighbourhood: it has a kindergarten, health centre, fresh market, supermarkets; it is very vibrant," Ilijana explains. "Vasilija has a friend in the building with whom she goes to kindergarten and other friends with whom she hangs out in the backyard."
They live in a 34-square-metre apartment with a living room, bedroom, kitchen and bathroom. When she moved in, the Danish Refugee Council partially furnished her home using EU funds.
"This is the first real apartment I've had ever since I fled," says Ilijana with tears in her eyes. Then she starts laughing and says she doesn't know what's gotten into her – she rarely cries.
A better life for more than 200 people
Within the project of social housing in supportive environment implemented under IPA 2012 project fiche, Danish Refugee Council has constructed both buildings and prefabricated houses in Pancevo, Bela Palanka and Raca, whereas in Kladovo the DRC constructed only the latter. The number of tenants in social housing buildings amounts to 134. Within the project, and with support from Danish Refugee Council, the families of refugees and internally displaced could chose to have prefabricated houses constructed on municipal land or the land which they purchased themselves. 39 families opted for this arrangement.
These four municipalities have taken care of a total of 92 families, meaning that 208 family members now have a roof over their heads thanks to the project. The value of the project, which is part of a wider EU support programme "For a better life" worth EUR14.2 million, was EUR2,113.289.59.
*This designation is without prejudice to positions on status and is in line with UNSCR 1244/1999 and the ICJ Opinion on the Kosovo declaration of independence.