An estimated three million refugees were displaced both within and beyond the borders of the former Yugoslavia as a consequence of the armed conflicts in the nineties. During the past two decades, many of those have managed to re-establish their lives through local integration, resettlement or return. However, tens of thousands still remain displaced throughout the region, many of them living in precarious conditions and with no permanent housing.
Family Bogovac received a package of building materials in October 2015 under the first RHP sub-project implemented in Serbia. This 4-member family is one of the 129 families who received packages of building materials in 2015, which enabled them to complete the construction of their houses.
Today, family Bogovac finally has a roof over their heads. When the family fled from the village of Koljane in Croatia in 1995, they arrived in Indjija and initially moved in to live with their relatives as there were no other options. Over time, they became tenants and managed to earn enough money to acquire a plot of land and begin the construction of a house. Unfortunately, due to lack of funds they were unable to finish their home.
When the family heard about the RHP, they immediately submitted their application for housing assistance. Mr Bogovac advises other refugees to not lose their faith and apply for assistance. "We spent many years as tenants living under someone else's roof. There is great joy when a family finally moves into their own home. Don't lose faith".
Mr Nenad Tumara received a prefabricated house, constructed on his own land plot in Pecinci. "Since the beginning of the nineties, when we fled from Croatia and came to Pecinci, I have been living here with my mother. Every year I have been applying for different calls for refugees for support, but without any luck. Now after all these years I finally have received housing, my own pre-fabricated house, thanks to the RHP!"
Marica Cugalj fled with her husband from Croatia in 1995 and, since then, they have been living in the Srem village of Pecinci. Now a three-member family – they have a 14-year-old daughter – they were lucky – her husband has always had work. He works as a repairman and she works in the local shop.
The Cugalj family heard about the possibility to get a pre-fabricated house – since they already owned the plot of land, they met the necessary criteria. After more than 20 years of moving from one rented accommodation to another, they have now settled in the RHP-financed pre-fabricated house in Pecinci, where the family has just spent its first winter in their own house. Behind the house, there is a small garden where Marica is growing vegetables and has installed a beehive. For this family, being able to grow their own food and get additional resources from honey means a lot.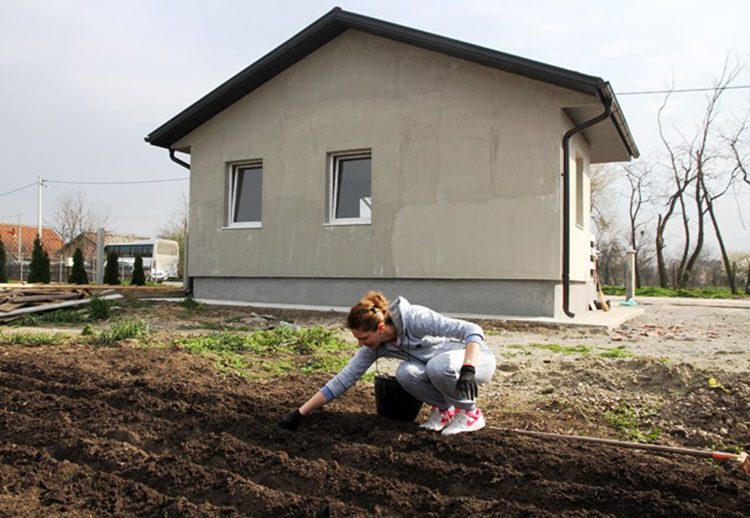 The whole family is looking forward to next summer, to get their own vegetables and honey.
In the summer of 1995, Marko and Dusica Uzelac arrived in Serbia on a tractor, with what belongings they could carry. They ended up in Obrenovac living with relatives – sharing a 50sqm flat with up to 20 people at times. Marko used to be a cook back in Croatia so he quickly managed to find odd jobs as a waiter to support the family. Securing a home for the four of them, on the other hand, proved difficult.
Dusanka and Marko heard about the possibility to get a village house through the Regional Housing Programme. For them, this was the best option as it would allow them to remain in the village in which they have been living for years now, close to their grown-up daughters and their six grandchildren. They collected all the requested papers, applied and hoped for the best.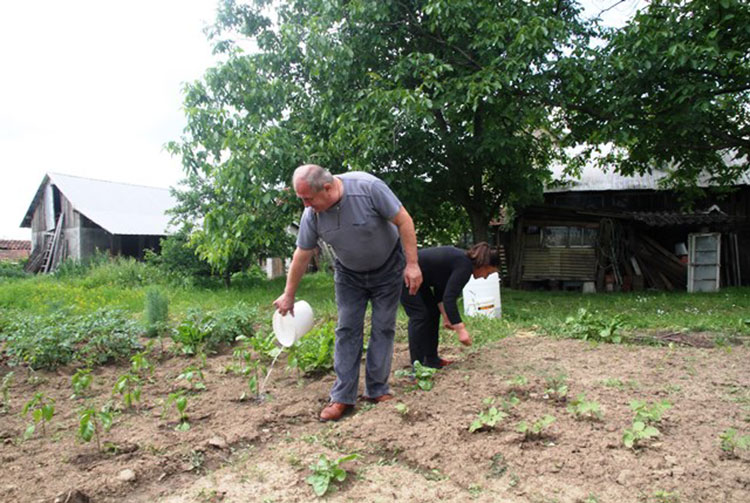 Their wish came true and in July 2016, after more than 20 years of being practically homeless, they got their own house, with a big garden and an orchard in the backyard.