The first conference on preparing the Draft of the Air Protection Programme in the Republic of Serbia with accompanying Action plan was held today, 16 April. The programme is currently being drawn up with European Union's support within project "EU for better environment – Developing framework for the harmonization of law in the area of air, chemicals and horizontal issues with EU legislation."
As she opened the conference, Aleksandra Imširagić Đurić, Assistant Minister of the Ministry of Environmental Protection, pointed out that the goal of the conference was to engage all interested parties and citizens in drafting of this important strategic document. "The strategic and planning document is a crucial instrument for planning of air protection policy and improving air quality in Serbia, and the project itself is implemented in line with a rather serious and multidisciplinary approach. Programme Draft, with accompanying Action Plan, will serve as the foundation for further improvement and adoption of bylaws, as well as for further transposition of European law in the area of air protection in Serbia," Imširagić Đurić noted.
With EU support, the Ministry of Environmental Protection is preparing the first National Air Protection Programme. This EUR2 million-worth project is based on three pillars: 1. Reduction of air pollutants emissions (Maximum national emissions); 2. Improvement of air quality (without exceeding the limits); 3. Reduction of the impact of air pollution on citizens' health. The Programme is also expected to introduce and implement specific measures and actions aimed at monitoring, control, prevention and reduction of air pollution and its harmful impact on the health of people and environment.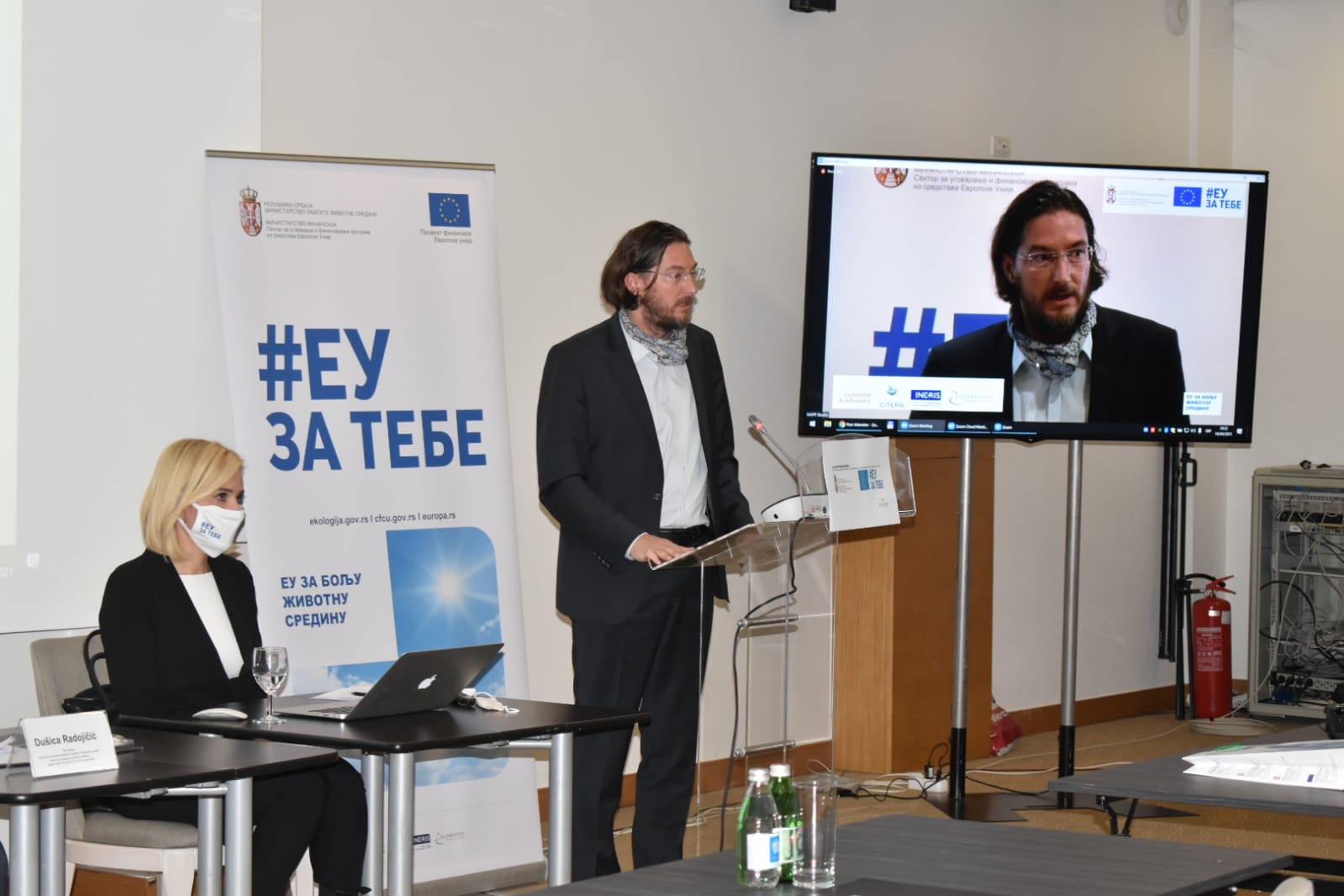 In his opening remarks, Antoine Avignon of the European Delegation to Serbia stressed the importance of the event for tackling the serious of issue of air pollution in Serbia. "The air quality programme launched by the Ministry of Environmental Protection with EU support, shows that there is a need for research, science and solutions for fighting air pollution. EU recommends that we work as close together as possible to overcome the issue of air pollution and take quick action where it's needed most, while at the same time planning mid- and long-term measures," Avignon pointed out.
The project includes planning of alternative options to tackle this serious issue – including options with existing and additional measures – reduction of air pollutants, while in the next phase, it also includes financial cost planning. Also, the project foresees impact analysis of different options, options comparison, and picking optimal solutions.
"I would like to thank all associates in the project  "EU for better environment" for their effort, knowledge and significant contribution to preparing the Draft Air Protection Programme of the Republic of Serbia with accompanying Action Plan", Imširagić Đurić said.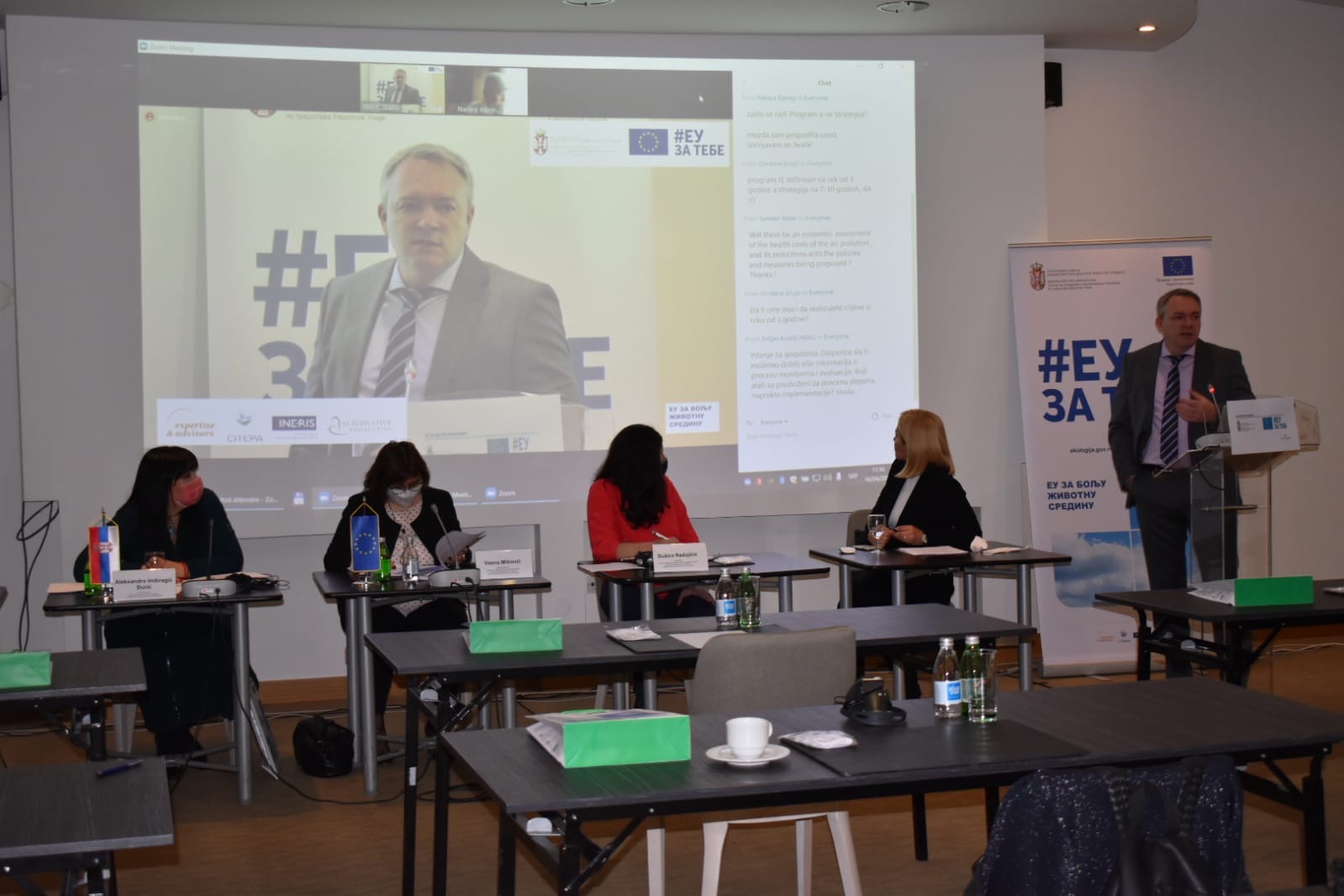 "We also intend to enhance the capacity of the Agency for Environmental Protection for monitoring of air quality, with financial support to the tune of EUR3 million for the purchase of new air quality monitoring stations. In this process, it will be crucial to adopt EU air quality index (EU-AQI) recommended by the European Environment Agency," Avignon added.
As of Monday, 19 April, the documents seen in the conference will be available on websites of the Ministry and the project, and all interested parties, institutions, organisations and citizens will be invited to submit their questions and suggestions within 15 days to the Ministry and experts in the project and take part in drafting of this important Programme.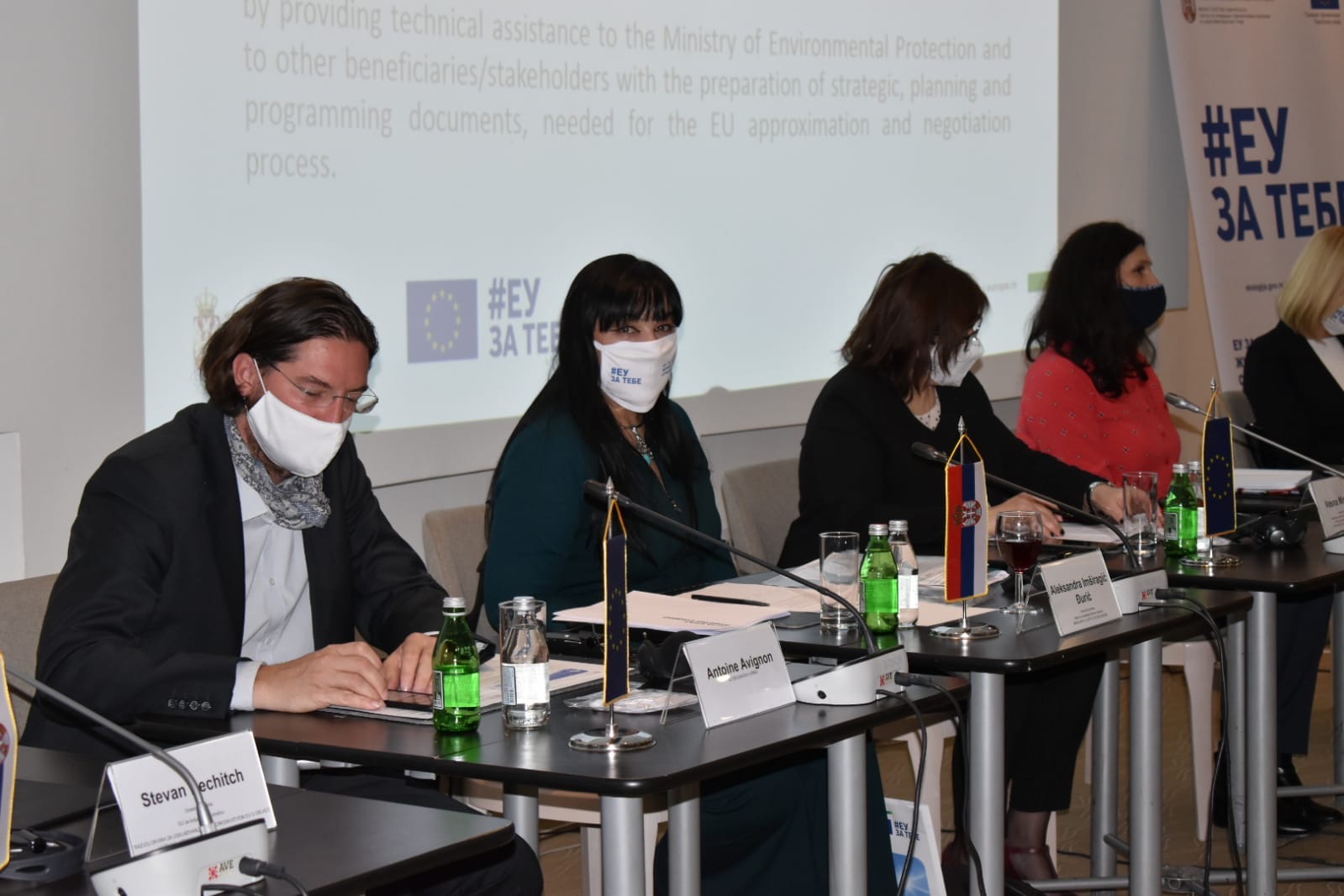 As of Monday, 19 April, citizens will be able to see and comment on proposed solutions:
Presentation and current status of the Draft Programme on Air Protection in the Republic of Serbia with accompanying Action Plan;
Presentation of types and results of modelling of air pollutants for Serbia 2030 (Models WEM, WAM-A, WAM-B, WAM-C)
Model WEM which includes all previously adopted policies and measures,
Model WAM A which includes additional measures – full implementation of all relevant EU directives and regulations that haven't been fully enforced thus far,
Model WAM B which includes measures of intensive control and foresees the introduction of, in certain cases, strict emissions limit values (ELV), as well as national financial and fiscal policies and measures in key categories of emissions sources.
Model WAM C which includes, apart from previously adopted, additional measures, such as local specific measures (i.e., incentives, limits and prohibitions).
Results of modelling for Serbia 2030: impact of WAM A and B modelling on improving the air quality.
The European Union is a global leader in environmental protection. The EU supports Serbia on its path toward a healthier environment. With donations of over EUR400 million in non-refundable aid for environmental protection, the EU is biggest donor in this area in Serbia.
With EU's financial assistance, Serbia is working to develop and apply strategic plans for environmental protection ‒ sustainable system of environmental protection that creates healthier environment and boosts the quality of life.