"Erasmus helped me in making me independent for the first time in my life, because it does not concern just studying but also living in a new social environment that helps to demolish all prejudices about other cultures. Moreover, we are ambassadors of our country, so other people will be in touch with our culture," concludes Jovana, a Serbian student who is now completing her Erasmus project in Granada, Spain. "I think that everybody in the world should try an experience like Erasmus," she says.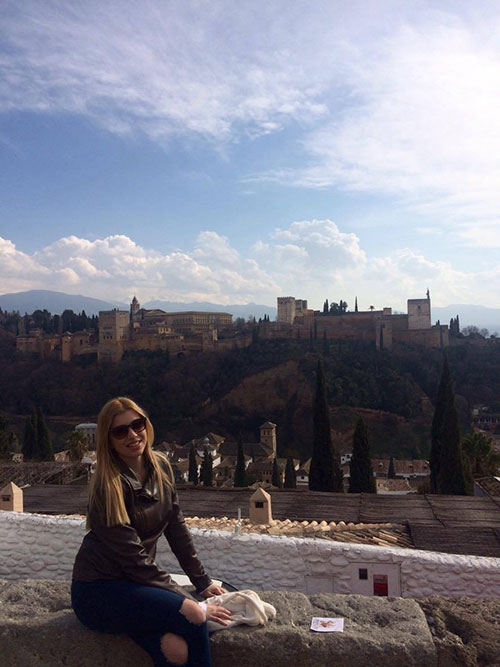 Another Erasmus student from Belgrade, Bojana, who spent 5 months of her master in Konstanz, Germany, affirms: "I improved my English writing skills to the extent that I decided to open my own blog, in order to share my views, and somehow promote Erasmus to others. I'm definitely sure that this experience will help me in my future career."
Erasmus+ programme, which is turning 30 years this year, represents not just a good opportunity for academic career and therefore the basis for future professional life, but it is also the beginning of a lifelong learning process that affects both Serbian students and exchange students coming to Serbia. Erasmus+ has also enriched Serbian faculties with many foreign students, who have chance to get in contact with Serbian culture and society.
"When I communicated to my parents that I applied for an Erasmus project in Belgrade, they were enthusiastic I was going to live in the town that used to be their capital city", affirms Luka from Slovenia, who is finishing his bachelor studies in Serbia. He also adds "Here I learned a lot, mainly how to be independent in another country and this will help me in my professional career. I am already missing Belgrade and I am looking forward to enrol here for a master".
Erasmus programme gave to Serbia the possibility to create a multicultural context at the university and enabled cultures to meet in a stimulating context. "Working with Erasmus student is very interesting because students come here willing to know, try, learn and live everything concerning our culture. This helps both exchange students and ours, because by being in contact they exchange views. Moreover, foreigners can finally understand that Serbia is not that wild as it used to be depicted in the past, and this is thanks to this EU programme," affirms Nikica Strižak from the Centre of Serbian as Foreign Language of the Faculty of Philology.
As the numbers of exchange students will increase, the educational and cultural enrichment for Serbia cannot but keep growing.
Erasmus turns 30 years
The Erasmus programme was launched in 1987 as an opportunity for students from the European Community to travel in other member states for studying purpose. While the numbers of the programme at its beginning were very humble, after 30 years it turned to be the most attended youth programme in Europe.
During the years it has expanded to extra EU countries and for this reason in 2014 it got the name "Erasmus+". In 2015 only, the Erasmus+ projects approved for studying, training and volunteering were more than 670.000, while in the first year were just 3.200.
Erasmus and Serbia
Serbia is one of the countries that mostly benefited from the expansion of Erasmus.
Together with other EU neighbouring countries, it belongs to the group of candidate states to become a full member of the programme. According to statistics[1], in Serbia 4.977 scholarships have been awarded to students, post-graduate students and university staff members as follows:
In 2015 and 2016, 1,716 scholarships for student exchanges and 1.400 persons employed in universities around Europe;
For Erasmus Mundus programme, between 2004 and 2014, 1,300 scholarships were awarded for exchange programmes and 564 were the scholarships for entire study periods and study visits.
Author: Giorgio Fruscione, journalist, intern at the EU Delegation to the Republic of Serbia
The text originally appeared in Danas daily