The young were singing to the elderly. They made their Saturday afternoon with jazzy interpretation of folk music, reminding them of youth, homeland, old lovers, their daughters and sons. Gerontological Centre in Nis hosted one of the performances by children and youth within the project "El Sistema Serbia" during their visit to this city. The music and art project "El Sistema," supported by the EU through European PROGRES programme, undertakes musical education of children from marginalized and vulnerable social groups according to the famous eponymous Venetian model.
Despite great age difference between the members of "El Sistema" and residents of Gerontological Centre, they are brought together by the need for unity. "I should have gone to the pharmacy to pick up my medication, but in stead I stayed here to listen to the children's choir. And I did not regret my decision – I am thrilled with their performance and medication can wait," said Marija Bego who has spent last six years at the Gerontological Centre.
During the performance, the audience did not hesitate to clap their hands, giving rhythm to musicians, and when young musicians started singing "Ajde, Jano" and "Sibil cvece" many of the elderly started singing along. "The audience is fantastic! I tried to motivate them and make the performance interactive. I think we realized our initial idea, to make their day and make their life a whole lot nicer," says happily the conductor of "El Sistema" Aleksandra Savic. Ljiljana Mitrovic confirms this by enthusiastically adding: "I enjoyed Macedonian songs the most, because Macedonia is my homeland."
Jasmina Ilic, occupational therapist at the Centre, sums up her impressions following the performance: "It was wonderful, the clients were thrilled, they like being in the spotlight. Children are always dear guests, you could see they kept smiling for the whole time. For our clients, this will certainly be a day to remember."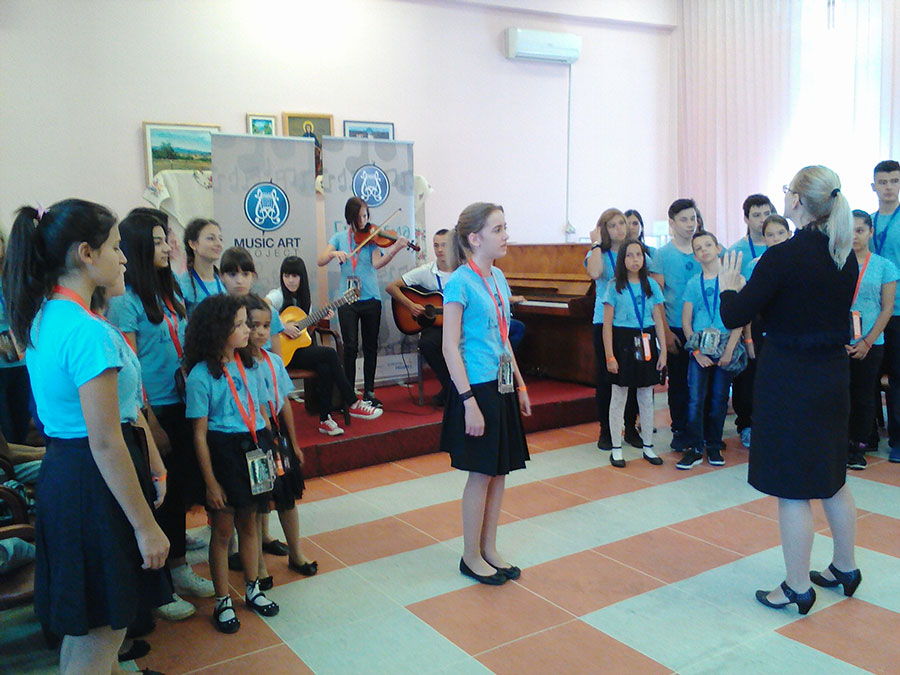 Some 30 young musicians and singers performed at the Gerontological Centre made up of children from Novi Sad Centre for Social Welfare, students of Music School in Vranje and Obrenovac association "Kruna od nota". Jazz musician Ivana Blagojevic has helped them prepare for this performance. "El Sistema is present in 60 countries and has musically trained some 4,000.000 children at all levels. The idea is to let them hang out and share interests based on their similar qualities and make the criterion of being rich or poor irrelevant," says Djurdja Papazoglu the Director of El Sistema Serbia.
They gave an encore and following the performance of the last song "Tamo daleko" one could hear the audience saying "Come again!"