"I made this," says Sanela while showing her neighbor Zora a photo-album with formal hairstyles. "That's a real hairstyle, I say! Well done, neighbor!" Zora replies and asks Sanela when she can make a hair appointment of her own. "I always wanted to become a hairdresser, to find a job and to make hairstyles," says Sanela.
It is a big dream. And when you add a fact that it is a dream of a person with intellectual disability, many would say it is impossible. Do you also think like that? Well, wait to get to know Sanela Sulić, a charming 36-year-old woman with a big heart and huge talent.
The project "Getting a life"  – the opportunity Sanela jumped at
"I was born in Apatin. When I was little, they took me to the Institution in Visegrad. Then the war came. The war was terrible. One woman wanted to hurt me – I have a scar on my neck and on my hand. Then they moved me to Popovac where they accepted me nicely," Sanela says, beginning her story.
She has spent most of her life in the Residential Institution for Adults and Elderly "Gvozden Jovancicevic" which takes care of approximately 250 people with intellectual and psychosocial disabilities. It is located in the village of Veliki Popovac near Petrovac na Mlavi.
In the Institution, Sanela contributed to the everyday functioning of the facility by doing simple house chores. She spent her free time embroidering and knitting, spending time with her friends, participating in theatre plays where she performed and danced traditional Serbian dances. "I like to listen to folk music and I learned to dance in the Institution," says Sanela.
However life in the Institution was not enough for her. The current capacities and strict social policies, which regulate functioning of this kind of institutions, hinder the individual development of clients and limit their basic human rights. Sanela wanted more than a monotonous life in a residential institution. She wanted a real life. She had a dream to move to Petrovac, walking through a park, independently shopping for clothes and to get a job as a hairdresser. And she was determined to make that happen.
So Sanela jumped at the chance to participate in the Getting a Life project led by the Czech NGO People in Need in partnership with the Institution. The aim of the project was to deinstitutionalize people with intellectual disabilities and move them into ordinary houses located in the town. To help with everyday life in the community, these residents are aided by Independent Living Assistants.
Getting a Life was part of a larger European Union funded project called Open Arms. in which several residential institutions from Serbia participated and it was supported by the Ministry of Labor, Employment, Veteran and Social Affairs and the Ministry of Health of the Republic of Serbia.
"I bake cakes and make icecream, take walks with my friends and attend events at the Cultural Centre"
Thanks to this project, Sanela and five more people with intellectual disabilities moved from the Institution to a nice house close to the main street in Petrovac at the end of April 2015. It was quite an overwhelming change, but Sanela quickly found her way and started to build the life she always wanted.
"Even on weekends, I wake up early, and have my breakfast. I can eat whatever and whenever I want, I don't have to wait for everyone to wake up and eat, like it was in the Institution. After breakfast, we clean the house and when it's my turn, I cook lunch. I often bake cookies and cakes and make ice cream. In the afternoon, I go for a walk with friends, drink juice in a cafe or go to some events in the Cultural center," says Sanela. "The neighbors are visiting us or we go to visit them. I'm spending time mostly with Ruza and Violinka who became my friend when she was teaching me to knit," she adds.
Along with three other housemates, Sanela took part in vocational training for knitting and crocheting which was the part of the activities within the Getting a Life project. "She showed an exceptional skill and finesse in her work. She quickly learned all the techniques and I think she could easily knit clothes and sell it. Besides her dedication to work, she is so friendly and loving person that we continued to visit each other even after the training was over," says the instructor Violinka Janackovic.
It's safe to say that Sanela was busy in her new home. She had been making plans: to visit friends from the Institution who have moved to Veliko Gradiste within the same project, to join local traditional dance club, to get new artificial teeth. One of her biggest desires has been to find her long-lost mother through the popular TV show. "I want to call the 'All for Love' and find my mother. I want to hug her and ask her why she left me," she says. Together with Independent Living assistants, Sanela has established contact with the producers of the show and she is expecting to receive some good news soon.
"I would love to learn how to cut hair, earn a lot of money and go to the Montenegro seaside by plane!"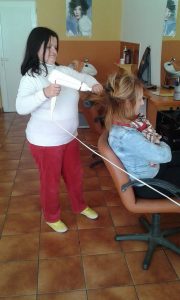 However, the one goal that still remained was Sanela's dream of becoming a hairdresser. "A hairdresser? No way." "What a hairdresser? It's hard enough even for normal people and she is disabled!" "Maybe she could wash hair, but nothing more than that," Sanela's dream had faced these comments. She had been quite sad that she had already lived several months in the town and still had not found someone who would be willing to teach her how to become a hairdresser. But she never gave up, not for a moment.
"During our conversations, it became clear how much Sanela longed to become a hairdresser. I had known her as a very clever and diligent person, so I suggested to my hairdresser to become her mentor," recalls Violinka.
So, on one hot summer afternoon, Sanela met Jasna Lackovic-Mitic, a local hairdresser. Sanela has certain difficulties in pronouncing words, so it usually takes some time to fully understand what she is saying, but in this case Jasna instantly understood not only her words but also her passion for hair styling. That was a good sign. The training started a month after, and Sanela's happiness was radiant. "I'm going to be a hairdresser, I'm a hairdresser!" she shared the joy with friends.
Of course there was a lot to do, but with the effort of Independent Living assistants, People in Need's Employment Coordinator and mentor Jasna, Sanela was making daily improvements. Soon, she started to go to work independently, improved orientation in time and social skills. "Jasna is very pretty and she's nice to me and she taught me everything. There are also other workers in the salon and we are getting along well. Sometimes we go out for coffee, and sometimes Jasna sends me to the bank to pay the bills," explains Sanela.
"She's incredibly committed, fully focused on work and she quickly remembers everything I show her. She has never been late for work. What impresses me the most are her manners and kindness to customers. I respect her not only as a worker, but also as a person. I have never doubted that I would be able to teach Sanela most of operations every hairdresser has to be able to perform. Honestly, I was more worried about customers reactions. There are all kinds of people, and I did not want someone to be mean to her," says Jasna.
Unfortunately, there were some people who refused to be served by Sanela, there were strange looks and negative comments, but there were many more who recognized Sanela's talent and generosity. Over time, the community became more familiar with the new worker and ladies from the neighborhood began to call her for house calls to blow dry or color their hair.
However, there are still a lot of legal obstacles for her full-fledged employment. Like almost every person in residential institutions, Sanela is deprived of legal capacity which means that she literally has no right to decide anything about her own life. Instead of her, the decisions are made by a guardian. From the legal point of view, this 36-year-old woman is treated as a child. With the support of joined forces of People in Need staff and employees of the Institution, Sanela started the fight for regaining legal rights. The fight is still going on, but it does not prevent her from making plans.
"I like to go to the salon and learn. I know how to make hairstyles with braids, to wash hair and to blow dry it. I would love to stay there to work and to learn how to cut hair," says Sanela. "And when I make a lot of money, I want to go to a seaside of Montenegro by plane!"
After four months of training, Sanela received a diploma which testifies that she successfully completed the course of braiding hair in the salon "Jasna". She keeps it proudly in an album with photos of different hairstyles that she made showing that with lots of love and boundless faith, big dreams can come true.
Autor: Jasna Glišić
The text originally appeared on: https://www.clovekvtisni.cz/en/articles/i-always-wanted-to-become-a-hairdresser-now-my-dream-came-true-says-sanela