Amid the coronavirus pandemic, 122 women farmers—gathered around the UN Women-run and EU-funded project Women's Association of Kolubara District, which promotes political participation of women and supports their economic empowerment through education and networking—created an online farmers' market in response to the COVID-19 lockdown.
Rural women are among the most vulnerable groups in Serbia and discontinued agricultural production and the lockdown measures in place due to COVID-19 have caused long-term harm, especially on women's income. Farmers are banned from selling their products—fresh markets have been closed for roughly a month; there is no public transport, and alternative couriers refuse to transport food. Economic losses will be tremendous, and women farmers do not even dare to calculate them now, knowing that the results will most certainly be defeating.
"The COVID-19 pandemic and subsequent declaration of the state of emergency in Serbia forced us to adjust our activities, but also to find ways to contribute to our local community. First, we tried to help with the most urgent thing, which was the lack of protective equipment. We immediately engaged our social enterprise (from the Association) and made fabric masks for those on the COVID-19 front line – police, public health workers, and civil servants," Jelena Ružić, president of the Women's Association of Kolubara District, proudly explains. adding that just a couple of weeks into the state of emergency, women could already feel the economic implications. "In our daily communication with women farmers, we learned that agriculture is facing enormous pressure and that individual producers are invisible to decision-makers," she says.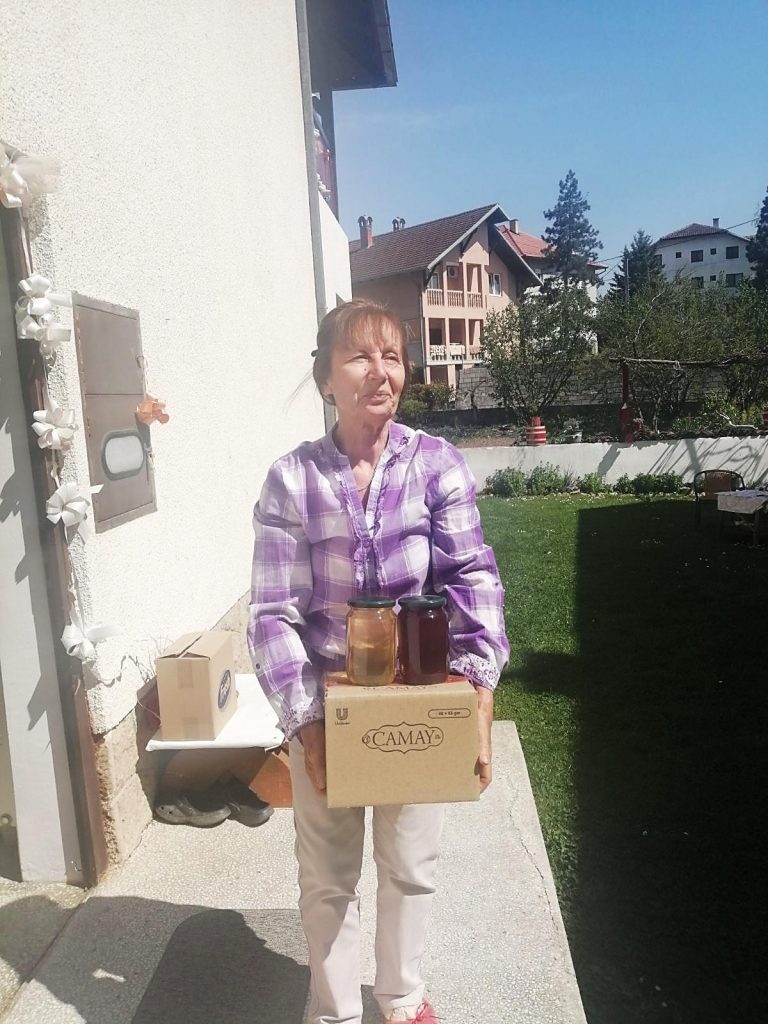 A woman from Women's Association of Kolubara District packig jars of honey to deliver them to her Online Green Market customers (photo: Jelena Ružić)
To address these issues, in April 2020, the women gathered around the Association launched an initiative that resulted in the creation of an online farmers' market with the goal to help women farmers reach their customers and sell their products during the crisis. Given that express delivery services do not deal with food products, these women had to find an alternative way to deliver their products to customers. "We figured that Belgrade would be our biggest market, but we faced the issue of covering shipping costs," Jelena explains. "Fortunately, it was possible to reallocate a part of the funding from the project to fund this activity. We were thus able to hire a driver and pay for the shipping expenses. We use our own vehicles and pack our products either late at night or early in the morning so that they reach our customers while still fresh," says Jelena, adding that for customers in Belgrade and Kolubara, the shipping is free of charge and fresh produce is delivered on Wednesdays and Saturdays. These proactive women were happy with the sales and were eager to learn how to make the online platform work by themselves. Thanks to their dedication, they now don't need an IT expert to help them run the platform.
Even though there is barely room for civic engagement during the state of emergency, they are determined to continue fighting for women farmers, and they already have plans on how to further the success of their online farmers' market initiative—to reach more customers, they are currently working to set up an online farmers' market smartphone app and provide means for long-term sustainable shipping of their products sold via the online farmers' market for which they meed a refrigerator truck.
"Economic Empowerment of Women Farmers" is part of the project "Key Steps toward Gender Equality" funded by the European Union, aimed at making a substantial contribution to the empowerment of women in both rural and urban areas, and encourage them to preserver in their efforts to gain and exercise their women rights. Some of the project's activities include support for the implementation of the National Gender Equality Strategy and grants for the economic empowerment of women. The project is implemented by the United Nations Entity for Gender Equality and the Empowerment of Women  (UN Women) in cooperation with relevant national institutions, the Coordinating Body for Gender Equality and the Ministry of European Integration.